Tanglewood News Jan. 12, 2022
One of our two new guinea pigs getting settled in the museum
Upcoming events:
Win for Wildlife Raffle:

Buy as many raffle tickets as you like for our 3rd annual Win for Wildlife. Your raffle ticket enters you for three drawings for cash prizes: $1,000, $500, and $250. Need not be present to win – this drawing will be livestreamed so you can enjoy your win from the comfort of your couch!

Tickets will be available starting December 1, 2021 and the drawing is Tuesday March 1, 2022!

Tickets are $20 each. You can purchase tickets from a board member, stopping in or by calling the office at 607-732-6060 and your ticket(s) will be automatically entered into the drawing and your matching ticket stub(s) will be mailed to you.

Winter Wiggles:

It's time to cozy up in the museum to read a storybook, and learn about animals & nature! This free pre-K program runs November-March, on the first Wednesday morning of each month from 10am-10:45am. Each program will include a story for the kids with an up-close-and-personal animal guest. No RSVP is needed. Masks will be required for ages 3 and up.

The next program will be on February 2nd and will focus on Sully the Ball Python!
11/3 – Neville the rabbit

12/1 – General the Bearded Dragon

1/5 – Hank the Red-Tailed Hawk

2/2 – Sully the Ball Python

3/2 – People's Choice – Last Wiggles of the year
Last Tuesday Drop in: Want to get outside on a science expedition, and learn about a topic in-depth with hands-on exploration? We are continuing our drop-in program on the last Tuesday of each month from 10am-11am. Programs will be held from November to March. These programs are geared for ages 5 and up. Perfect for homeschooling families but open to anyone!

Each program will dive into a different topic, and the curriculum is designed to enrich and expand on STEM standards. Dress for the weather and expect to spend some time outdoors! Masks will be required.

$5 for a family if you're a member of Tanglewood; if you're not yet a member, $10 for the family.

Please arrive a few minutes early to check in, so that the

program can start on time.
11/30 – Birds & Migration – includes an intro birding walk

12/28 – Reptile Roundup

1/25 – Awesome Amphibians

2/22 – Invasive Species

3/29 – Mad Science Experiments
What we're exploring this week: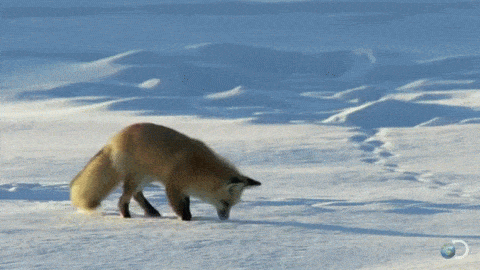 The red fox is just one of the many animals you can see in your backyard this winter! A foxes excellent sense of smell and hearing helps them locate prey in the snow. They can detect a mouse up to 100 feet away! Once located, the fox will pounce to catch their prey by surprise. Foxes are also very social animals and have a wide variety of yelps, whines, growls and barks to communicate with each other. Red foxes have also been shown to use these calls to "communicate" with humans. Here is a link to a video of a fox communicating with their handler at a wildlife rehabilitation center: Dixiedo fox runs away with my phone. Tries to bury it.
If you're an online shopper, remember, you can always support Tanglewood (at no additional cost to you) by doing your Amazon shopping at smile.amazon.com. Look for us as Tanglewood Community Nature Center, Inc.
_____________________________________________________________
Please note- we are requiring that everyone wear masks inside our building regardless of vaccination status. Thank you for helping protect our visitors, especially the youngest ones!
Reminder! Dogs are allowed at Personius Woods, but NOT on the trails by the nature center. We are preserving ground-nesting bird habitats and appreciate your cooperation. We encourage you to hike with your dogs along the streams, fields, and forests at Personius.