We are excited to announce our Fall 2021 Professional Training Institute Webinar Series. 
We invite all Social Workers, Mental Health Counselors, Marriage & Family Therapists, Creative Arts Therapists, Educators, and other Helping and Human Service Professionals to register now.
Space is limited in each webinar.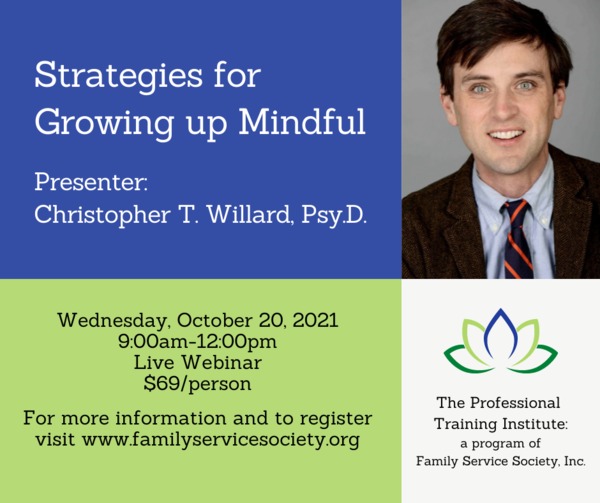 STRATEGIES FOR GROWING UP MINDFUL
Presenter: Christopher T. Willard, Psy.D.
Wednesday, October 20, 2021
Join author, psychologist and consultant Dr. Christopher Willard in this live webinar for therapists interested in bringing mindfulness to their younger clients. Dr. Willard will be sharing proven practices that can be used by all ages to creatively practice mindfulness. We will explore mindfulness through awareness, movement, games, play, and creative activities for all ages.
Learning differences, cultural differences, developmental differences, and more all affect how children learn best, and this workshop explores ways to adapt mindfulness, rather than approach with a one-size fits all approach. We will discuss tailoring techniques to a range of issues, including depression, anxiety, executive function challenges, trauma and stress. Different practices will engage different learning styles through arts, sports, games, music, technology and more, for attention spans ranging from 30 seconds to 30 minutes.
******************************************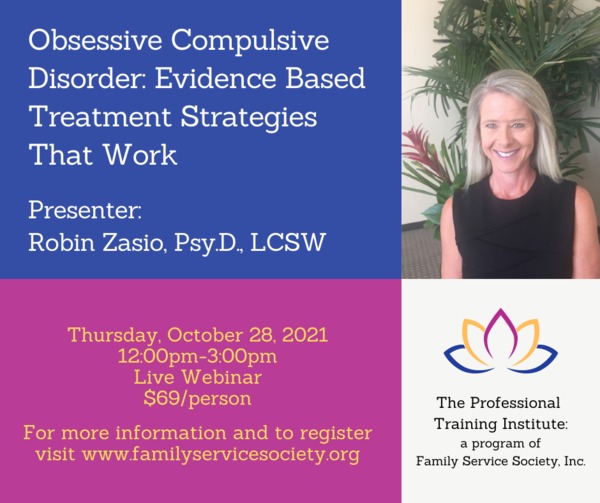 OBSESSIVE COMPULSIVE DISORDER:
EVIDENCE BASED TREATEMENT STRATEGIES THAT WORK
Presenter: Robin Zasio, Psy.D., LCSW
Thursday, October 28, 2021
12:00pm-3:00pm (Eastern Standard Time) – 3.0 CE Hours
Online webinar via Zoom – $69/person
CLICK HERE TO REGISTER ONLINE
Join Dr. Robin Zasio, licensed clinical psychologist specializing in OCD and hoarding disorder and featured doctor on the Emmy Nominated A&E hit series "Hoarders" for this three hour webinar. Obsessive Compulsive Disorder (OCD) is a commonly misunderstood diagnosis that many therapists are fearful to work with. Hearing that your client is distressed by thoughts of harming themselves or others, or fears of hurting children, can cause therapists to wonder if they should take action for safety. The key discernment in treating OCD is understanding that these thoughts are unwanted and intrusive and that the client with OCD will not act out on them. Knowing how to address thoughts like these is important for successful treatment. This presentation will describe the differences in OCD thoughts versus actual harm thoughts and learn how to communicate treatment to a client as well as execute a treatment plan.
******************************************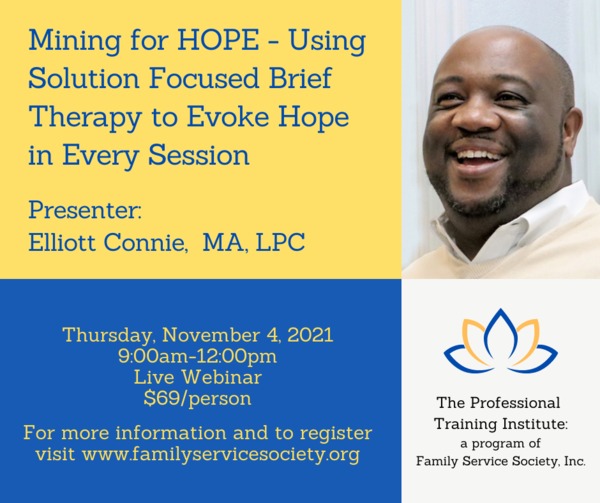 MINING FOR HOPE: USING SOLUTION FOCUSED BRIEF THERAPY TO EVOKE HOPE IN EVERY SESSION
Presenter: Elliott Connie, MA, LPC
Thursday, November 4, 2021
9:00am-12:00pm (Eastern Standard Time) – 3.0 CE Hours
Online webinar via Zoom – $69/person
CLICK HERE TO REGISTER ONLINE
Regardless of the kind of therapy you practice, there is one ingredient that must be present in order for change to occur, and that ingredient is hope. There are times when the client's life has been so impacted by their current problem, a past trauma, and everything in between that they have lost the ability to find their hope. Without hope, therapy cannot be successful, so what do we do?
That's what this webinar is all about, and we will be sharing….
*Exactly why hope is such a powerful source for change in a person's life.
*Five strategies to evoke hope in every single session (sure to impact your work immediately).
*How to keep your focus on hope (and what to do wuth it) when the client's problems seem insurmountable.
******************************************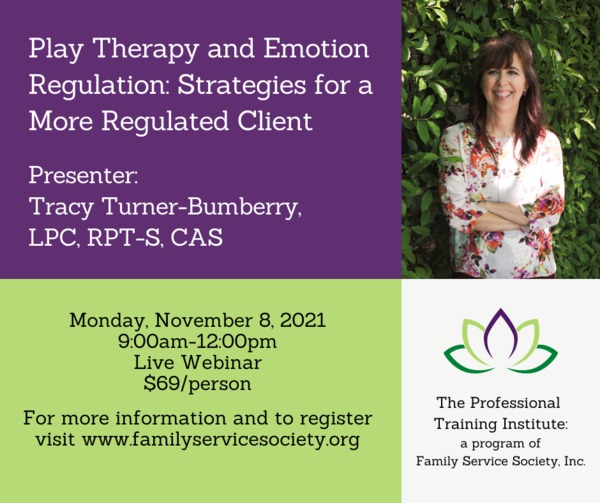 PLAY THERAPY AND EMOTION REGULATION:
STRATEGIES FOR A MORE REGULATED CLIENT
Presenter: Tracy Turner-Bumberry, LPC, RPT-S, CAS
Monday, November 8, 2021
9:00am-12:00pm (Eastern Standard Time) – 3.0 CE Hours
Online webinar via Zoom – $69/person
CLICK HERE TO REGISTER ONLINE
This webinar will discuss emotion dysregulation and the effect it can have on children and teens. The Gross Model of Emotion Regulation will be highlighted as a valuable tool when determining the needs of your dysregulated clients. Both antecedent focused and response focused activities will be demonstrated to show the need of prevention when working with emotion dysregulation. This webinar session teaches directive Play Therapy concepts to be implemented in the therapy session and replicated at both home and school.
******************************************
THERAPISTS AFFECTED BY CLIENT SUICIDE:
PREVALENCE, IMPACT, ASSESSMENT
Presenter: Meredith Beardmore, MA, LMHC
Monday, November 15, 2021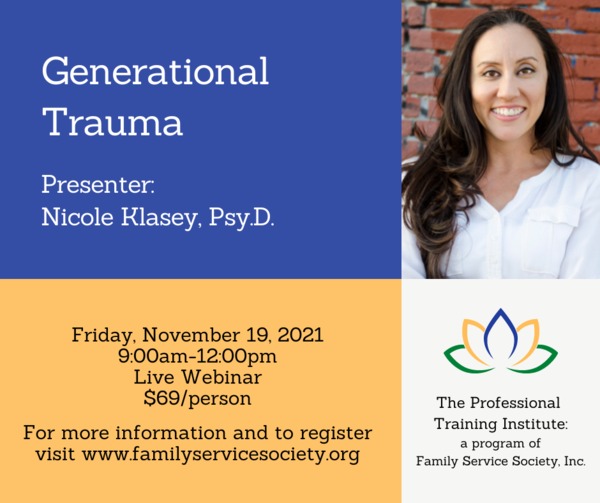 GENERATIONAL TRAUMA
Presenter: Nicole Klasey, Psy.D.
Friday, November 19, 2021
PUTTING THE CARDI B IN CBT: USING STARS, SPORTS, STAR WARS, SUPERHEROES AND POP CULTURE TO MAKE THERAPY ACCESSIBLE AND FUN FOR ANXIOUS YOUTH
Presenter: Sandra S. Pimentel, Ph.D.
Tuesday, December 7, 2021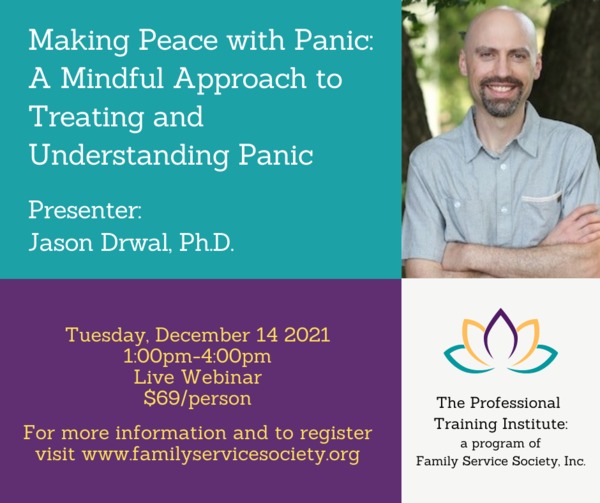 MAKING PEACE WITH PANIC: A MINDFUL APPROACH
TO TREATING AND UNDERSTANDING PANIC
Presenter: Jason Drwal Ph.D.
Tuesday, December 14, 2021
Providing trainings for over 25 years to
Counselors, Therapists, Social Workers, and Human Service Professionals
We appreciate everyone's support during this difficult time of COVID-19. Our Professional Training Institute has hosted in-person trainings for over 25 years. We have enjoyed seeing so many of you at these trainings. All of our trainings are currently being offered in a live online format via Zoom.
*****************************************************************
Please check our website often at
https://www.familyservicesociety.org/ce-workshops.html​
to learn about additional training opportunities as they become available.
CONTINUING EDUCATION INFORMATION
Each of the above webinars provides CE credit for NY Social Workers, Mental Health Counselors, Creative Art Therapists, and Marriage & Family Therapists, NBCC, and Pennsylvania Social Workers, Marriage and Family Therapists and Professional Counselors (See our CE information online at www.familyservicesociety.org).
Family Service Society, Inc.'s Professional Training Institute is approved to
provide continuing education for the following disciplines:
NY State Licensed Creative Arts Therapists –  #CAT-0022
NY State Licensed Marriage & Family Therapists –  #MFT-0033
NY State Licensed Mental Health Counselors – #MHC-0058
NY State Board for Social Work – #0071
NBCC – Family Service Society, Inc. has been approved by NBCC as an Approved Continuing Education Provider, ACEP #5930. Programs that do not qualify for NBCC credit are clearly identified. Family Service Society, Inc. is solely responsible for all aspects of the programs.
Pennsylvania State Board of Social Workers, Marriage and Family Therapists and Professional Counselors
The State Board of Social Workers, Marriage and Family Therapists and Professional Counselors recognizes Family Service Society (as a sponsor approved by the National Board of Certified Counselors NBCC – #5930), to be a pre-approved provider of continuing education programs for Social Workers (Sec. 47.36), Marriage and Family Therapist (Sec. 48.36), and Professional Counselors (Section 49.36).
Questions, comments, suggestions for future trainers and topics?
Contact Janalee Orfanides, Professional Training Institute Coordinator at 607-962-3148
or via email at orfanidesj@familyservicesociety.org
Forward this message to a friend
FOLLOW US ON FACEBOOK:
https://www.facebook.com/FSSProfessionalTrainingInstitute
******************************************************************